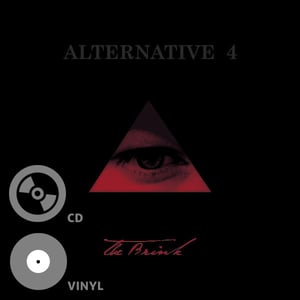 €

69.90
Strictly limited edition in heavy cardboard box. The release includes double vinyl set (180 gram, gatefold), CD in deluxe digibook edition, lyrics sheet, exclusive poster and stained-glass. Watch ALTERNATIVE 4 - The Brink | Deluxe Box Visual Presentation from 8merch.com.
Duncan Patterson, the main composer of the most acclaimed ANATHEMA albums, continues his artistic journey in the new band ALTERNATIVE 4, which style he describes as cinematic rock with classical arrangement.
The band members feature also Mark Kelson (THE ETERNAL) and Argentinian drummer Mauro Frison. The musicians recorded most of the material in Ireland, with additional orchestral parts recorded in Mexico. All these elements constitute to international and universal character of the whole project.
Spatial, intriguing and extremely atmospheric soundscapes, which fill "The Brink", make these songs so utterly beautiful.
1. The Brink
2. False Light
3. Alternate
4. Underlooked
5. Still Waters
6. The Dumbling Down
i. The Travesty Waltz
ii. Steakknife's Theme
iii. Silent Approval
7. Automata
8. Autonoma
9. The Brink (Reprise)